India's North East is a land of undulating hills and plains. The snow-capped mountains and a wide variety of rare and exotic flora and fauna attract a huge number of tourists each year. But did you think that Gangtok, Shillong and Darjeeling are an end to it?! Well, with our motto of surprising you always, we at WanderTrust bring to you the most serene places of the North East. These are places not so established on the travelers map yet, but their charm can sweep you off your feet.And nothing can beat this experience when coupled with our new and unique concept of surprise trip planning!
1. Dirang, Arunachal Pradesh.
Dirang is located in the West Kameng District of Arunachal Pradesh. This place is like a perfect getaway not only to high hills and gushing brooks but also to stunning tribal architecture and centuries old heritage!
Dirang is a pleasing combination with a spectacular landscape that could steal your heart.Besides it also has attractions like National Research Centre on Yaks, Hot Water Springs and Dirang Dzong(An area full of age-old Architecture with Stone Houses!) that could leave your mind fascinated.
2. Umananda Island,Assam.
Known as the Peacock Island,the Umananda is the smallest island amidst river Brahmaputra which flows through Guwahati in Assam. The major attraction of the island is the Umananda Temple dedicated to Lord Shiva. It sees a large influx of devotees during religious festivals like Mahashivratri.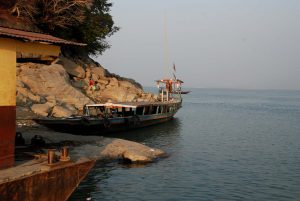 With amazing attractions like Ferry rides and a chance to see the endangered Golden Langur this island is a travellers' paradise.
3. Dzukou Valley,Nagaland.
Dzukou Valley is one among the most charming Valleys of Nagaland. Trickling and flowing rivulets and streams, colourful flowers, chirping birds and occasional appearance of wild hare, fox or bear makes this place a haven on earth.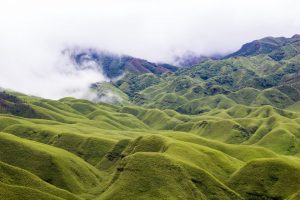 The accommodation at Dzukou is a small camp with very basic necessities run by the ever friendly and warm-hearted Naga youth from nearby villages who volunteer to the camp all round the year. Dzukou Valley is like a dream places filled with the dzukou lilies and adventurous hills.
4. Kakching District,Manipur.
Kakching is a house to museums, eco parks and the beautiful Kakching Lake. It is very rich in its traditional culture. Pleasant weather is what you can expect at all times whenever you are visiting Kakching. The markets attract a variety of outsiders for their variety of products. Recently, the main attraction for the tourist is Uyok Ching (Kakching Garden).
Above all, Kakching is the place showcasing the best of Manipur in it's Haraobo Festival.
5. Mawlynnong,Meghalaya.
The cleanest village in Asia! The village offers picturesque natural beauty and a trek to the living root bridge at a neighboring village Riwai. The natural balancing rock, a strange natural phenomenon of a boulder balancing on another rock is also an awe-striking sight.
Beautiful churches, breathe taking sky-view points, relishing waterfalls and mysterious caves form the core of Mawlynnong and Meghalayan culture.
Come travel with WanderTrust to the North east-The Paradise of the Unexplored and as we work towards creating hassle-free experiences for you to the best off-beat destinations which would give you tour packages including best stays and best outdoor activities and of course, the best memories of a lifetime.