When talking about adventurous, free-spirited and independent women, team WanderTrust had the pleasure of meeting one such amazing young lady from Patna –Miss Somya Rastogi,while planning her trip to Gokarna!
"It was a thing unheard of, and I thought it would be worth giving a try!"
Somya found us out while scrolling down her Instagram feed and was amazed by the new and unique concept that our trip planning involved. "I was so so astonished on seeing the entire idea, that I could not wait to give it a try", said our excited client.
But wait! Did we just forget to mention that Somya was a solo-traveler? Yes, you heard it right. The young lady was determined on letting life surprise her and she waited for none to join.
"It was so relaxing to be on a trip where you are alone with a perfect team backing you on all your plans. It was so flexible and full of freedom with no one to answer to and no one to be responsible for besides myself"
And this is exactly what we aim to do! Create hassle-free and lovable experiences where you collect memories and not worries.
"On receiving the first mail, I was so inquisitive that I actually started looking up for places which could be the destination I would travel to. I prepared a list and then on receiving the final envelope- I was travelling to Gokarna! One of the most favorite among the destinations I had thought about."
Gokarna is a beautiful town on the western coast of India in the state of Karnataka. "I am just in love love loveeeeeee with beaches!!!",said Somya. One most important thing during the entire trip was that it also comprised of a very special day – Somya's Birthday. Creative as our team is, we at WanderTrust understand the importance of those small moments that make it large. Hence, we planned to send out a mouth-watering Nutella apple pie as a surprise package to make Somya's day.
"My stay during that day was arranged in a hostel. It was an amazingly new experience because I had never stayed in a hostel before while travelling. And then when the cake arrived I was so surprised! Everyone in the hostel came out and celebrated as I cut the cake feeling so special." Some excellent memories behind the blurred picture:
Thanks to Gokarna's stretch of beautiful and sandy beaches. With the advent of young travelers from India and abroad thronging it, Gokarna no longer remains a quaint temple town, but a thriving vacation spot that is as laid-back as Goa. From surfing and snorkeling to yoga and shopping, Gokarna has facilities for all that you could ask for. The Gokarna beach, Half-moon beach, Mahabaleshwara temple, Namaste Cafe and so many other places make Gokarna a perfectly peaceful getaway.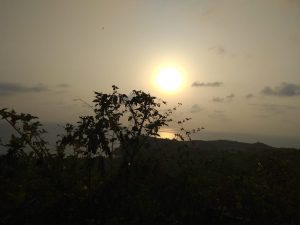 But what's a trip with no sudden changes and moments you could recall for life?
"While shifting from the hostel to the resort, I injured my leg and just couldn't move. It was so great that how Team reached out. They assisted with all the necessary things and last minute stay changes and extensions."

Thanks to you Somya! We grow with the growth of our clients and believe in assisting you with the best.
So people, get a move on! Take up the challenge! do not wait ,go ahead and enjoy this cool concept of surprise trip planning. And come join us by filling out this survey form and booking a ride on such adventurous roller-coaster trips!