Hey! Are you planning your next trip and wish it is awesome? Why don't you book your tour with WanderTrust ? Get a chance to be a part of our family; just like hundreds of our clients who trust and cherish our services every now and then. Well, here we are with one more such great tour flashback! It was a pleasure for our Team to host Miss. Shadja on her surprise trip to the pink city: Jaipur!
Let us Wander!

Jaipur is a bustling modern city. Renowned globally for its coloured gems and pink walls, this capital city of Rajasthan combines the allure of its ancient history with all the advantages of a metropolis. We had been planning quite a few trips in the South of India but every trip calls for us to design a unique and different experience for our clients. So we chose the pretty Jaipur for her. And she totally loved it.
"It was so amazing when I opened the revelation letter and found that the destination was Jaipur. I had always wanted to visit that place. I was extremely happy and excited."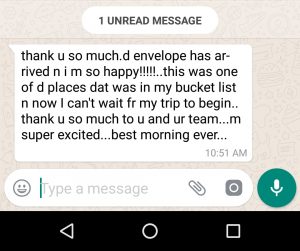 Shadja got to know about WanderTrust from her friend Nishita Kannangar who had traveled recently with us to Kerala.
"Nishita had a very good time at the trip, when she told me about the same, I could not wait to book my own solo trip."
Yes, yet another solo trip. We found a great traveler and a refined lady in Miss.Shadja who believed in extracting the most out of each moment in life. We also gifted her a cute hamper full of love from Jaipur during her trip to surprise her:
"It was too cute! I think it is like a momento I will love and remember for the rest of my life. It was very good to receive it so unexpectedly."
When asked about her most lovable experience during the trip, Miss. Shadja said:
"I have taken a lot of planned trips before but nothing ever has felt so sorted. I mean even in perfect plans there are some glitches, but with WanderTrust luckily there were none. Everything was so smooth all before and after Jaipur."
It's really great to see the increasing number of female solo travelers who book their trips with us. WanderTrust takes great pleasure in empowering the one who empowers all! With just this care and love we made sure that even Shadja got best company in terms of everything during her trip. She loved the way she was treated throughout and also appreciated the driver who took her for the city tours.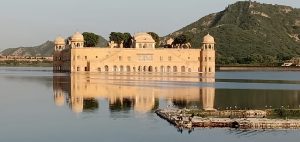 Not to forget, Shadja absolutely admired her stay at Jaipur:
"The location of the stay and the facilities were great. It was the best I could ask for."
It is indeed a pleasure for us to see happy clients returning back home with smiling faces and relaxed minds. We wish to continue to deliver such exotic and hassle-free services with your support. Shadja votes on a 10/10 for WanderTrust! Cheers!
We have a unique tour design for all the travel freaks in the house. From a bunch of students to a solo youngster, from beloved elderly travelers to fierce adventure seekers; we have it all covered. Come fill in this survey form and let us know about your trip preferences. Book your upcoming tour with us to a surprise destination in your budget! Hurry!