1,640 feet above the sea level we heard three voices talking and giggling! Well, it was none other than Sanket and Shawn; they had a friend along too! Yes, Mr. Sanket Agrawal and Mr. Shawn Gomes who had been on surprise trip with us earlier to Gokarna and Karwar had decided to come on-board again. This time the trip was to Pench!
Having already traveled with us before our two guests loved our concept of surprise trip planning; they decided on having another great surprise trip. And who could do it better for them than WanderTrust. After moving apart to different cities after college for their '9 to 5' lives they wanted to revive those college days and memories.
Over the trip we really found out that the three gentlemen had hidden inside them three cool kids of college filled with love and laughter. Here we take a glide into their tour story:
"We wanted an escape from city life; but we wanted the escape to be totally carefree, we had traveled before with WanderTrust and it was great. So we planned on taking up another trip."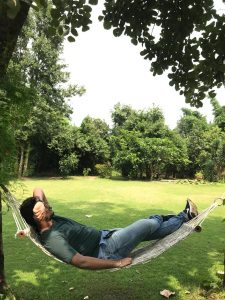 We give a thought as to what could three friends with lives filled with city traffic, noise and deprived of each other possibly want? 😛
"We just wished to relax and meet each other like in past."
Aw.  WanderTrust to the rescue! A destination far away from the city lights? Check. Exquisite resort with great facilities? Check. Pool for ultimate relaxation? Check.
"The resort was perfect. It was amidst the forest. No words. It had a cosy pool and very great food. The interior of cottage and service was also amazing."
Pench is a dream come true for Nature lovers. Situated near Nagpur, it reserves exotic flora and fauna along with at most peace and comfort.
"We were pretty excited and expectations were high after our first trip. The destination really amazed us when we got the envelope! It was Pench. Amidst the forest and as cosy as it could be."
It was great to plan yet another trip for these guests who had become a part of our travel family. We wished to deliver the best experience and stay for them. After having given our best thoughts and assistance before and during the trip we waited eagerly for their feedback.
"It could not have been any better. Must say, team at WanderTrust does its job with dedication each time. Every little thing was properly taken care of and great assistance was given throughout the trip. Amazing. Keep up the good work"
We were overwhelmed with their response and we hope all our guests keep reverting for their trips to us! Read more such feedbacks here.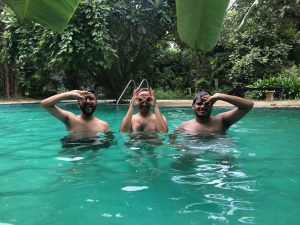 What are you waiting for? Whatever be your mood, age, gender or count we have a trip solution you can rely on. Fill this survey form and connect with us.
Connect WanderTrust, Disconnect Worries.