Hey! Are you someone who believes that age is a bad company to keep while travelling? Well then, WanderTrust had been looking just for you! Come on board as we salute our old-age travelers for their spirit and lively nature. After having done so much for us and the society it's time we tell them "Ji lo apni zindagi" XD.
We at WanderTrust believe that our concept of surprise travel would remain incomplete if we could do nothing for such travelers. Honestly, for us seeing such travelers live their lives is definitely like moment of a lifetime to capture! After having given you all the reasons why India is a perfect haven for old-age travelers, here we bring to you the 6 Best places in India for Sen-agers to travel:
1. Varanasi
Categories: Spiritual,Relaxing, Reliving hobbies, Foodie feast.
Varanasi, Benaras or Kashi- call it whatever you may! The experience in this city for any old-age traveler is unique and cannot be limited to words. It is a perfect mixture of activities that constitute enjoyment as well as peace and spirituality for one.It offers varieties like – visiting the magnificent temples and taking boat rides in Ganges ,reliving your long forgotten hobbies like weaving (in the weavers' village) and shopping endlessly.
The best season to visit Varanasi is between October and March when the temperatures are in a comfortable range of 5-15 degrees Celsius.Festivals in Varanasi are celebrated with great pomp and show in this period.Also the endless food opportunities and the world famous benarasi paan cannot be forgotten about this beautiful place.
2. Madurai / Kanyakumari / Rameswaram
Categories: Spiritual, Historical, Architectural, Scenic beauty.
Surrounded by mountains of historic significance and cultural importance – Nagamalai and extending towards the tip of Indian subcontinent these three beauties of Tamil Nadu are vibrant places for old-age travelers.
Associated mainly with Sri Meenakshi Temple (Madurai); Vivekananda Memorial Rock and beach (Kanyakumari); Ramanathaswamy Temple and Dhanushkodi Beach (Rameswaram), these places have much more to offer with magnanimous museums and sooting scenaries.
3. Udaipur
Categories: Architectural, Luxurious, Romantic, Historical.
Udaipur is one of the best luxurious destinations for our beloved Sen-agers. Wish to reward them for all the hard work and stress they have had all their lives? Well, get them going to Udaipur! Udaipur has some of the most magnificent hotels and resorts.Besides, one can witness mesmerizing forts,palaces, realize their wishes of traditional shopping,visit the havelis and what not!
One of the best things to do in Udaipur for vintage car lovers and thrill junkies is checking out the Vintage & Classic Car Collection Museum.
4. Coorg
Categories: Relaxing, Scenic beauty, Adventurous, Architectural, Romantic, Luxurious
Are you planning a trip for an old-age traveler? And wish for a destination that has ample opportunities for both relaxation and love? Well, Coorg is the perfect place then.Candle light dinner?A ride on the elephant together?With amazing establishments like Orange County and nearby visits to pretty Mysore romance is in the air in Coorg.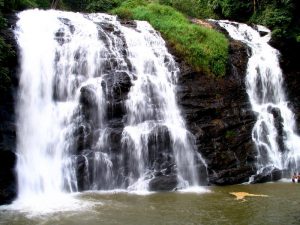 Puspagiri wildlife sanctuary ,Omkareshwar Temple,Tadiandamol peak and Abbey falls offer incredible scenic views and adventure opportunities.While places like Madikeri fort and Golden temple are fit for people who love to see architectural excellence.
5. Agra
Categories: Historical, Architectural, Romantic, Foodie feast.
Agra! The name itself is rather enough for the number of historical delights to be explored. The highlight is the tour of the world famous Taj Mahal, a gem of India. And a visit to the Kachhpura village is an opportunity to interact with the indigenous people and savor the true essence of Indian rustic hamlets.Agra fort, Bharatpur Fort Sanctuary,Bird watching  and Chambal River Safari are some excellent activities with exquisite establishments like Oberoi Amarvilas.
6. Munnar
Categories: Reliving hobbies, Romantic, Scenic Beauty, Relaxing.
Kerala is one of the safest tourist destinations for the Sen-agers. A trip to Munnar, a pleasant hill station famous for its romantic tea gardens and breathe-taking scenary and waterfalls, is probably one good idea. And what better way to relax than on a leisurely cruise down tranquil backwaters on a traditional houseboat.
Munnar also has the much loved tree-houses! Time to get hold on to those childhood memories and wishes! Also, Ayurvedic wellness treatment, and a rejuvenating body massage at various resorts and spa centers are magical ways to relax your mind and body. One can choose from either Balinese massage, classical deep tissue massage or an authentic shirodhara.
Travel not only induces a fresh mindset but also makes us healthy and betters every bond!So what are you waiting for? Come travel with WanderTrust and also bring your elderly darlings along. Let the power of traveling rather bring good changes and add to the positivity around us.
Let the travelling enigma work!