Looking out for places for a great tour this Valentine's season? Well, WanderTrust has the fix for you! Come with us as we guide you through The Princess of Hill Stations! Kodaikanal in Tamilnadu is a place well-known for its beauty, a wonderful climate, cliffs covered in mist, cloud-capped mountains and beautiful lakes and valleys. Kodaikanal has always drawn travelers from far and wide to its welcoming climes.
Here we present to you some of the most interesting attractions of Kodaikanal which will leave you Wanderlust!
Let's travel over the hills and far away!
Moir Point
Moir Point is a calm and peaceful place with an ideal ambiance to relax and rejuvenate for any visitor. One gets a refreshing bird's viewpoint of the hills along with the villages which surround the region. It is a scenic view point over the hills.
Besides enjoying the marvelous view of the valley, here one can also visit the nearby Golf Club and experience the great sport at a nominal fee. There is also a place of natural heritage very close, which is slightly offbeat, yet a crowd puller – The Guna Caves. Yes! Natural Caves! WanderTrust is known for the offbeat, isn't it?
Dolphin's Nose
Are you someone who would love to trek? Well, then this beauty of Kodai is especially for you. Situated at a distance of 8 km from the main city of Kodaikanal, it is a flat rock jutting out of the mountain, at an elevation of 6600 feet, overlooking a deep cliff. It has its shape akin to that of the nose of a dolphin.
The trek isn't very strenuous and one might also take a detour to the small village of Vellagavi on the way. If you like adventurous, you belong to the WanderTrust tribe!
Kodaikanal Lake
This magnificent star-shaped lake glitters like a jewel amidst the emerald green mountains. There are great boating services which it has to offer in the form of its "Boat Club". Towards the eastern side of the lake is Bryant Park. It is noted for its flowers, both hybrids, and grafts. The Flower Show conducted every year during May, as part of the Summer Festivals, should be visited by everyone.
Also, Situated about a kilometer away from the lake, Coaker's walk runs along a steep slope on the southern side of Kodaikanal. It offers some of the best views of plains.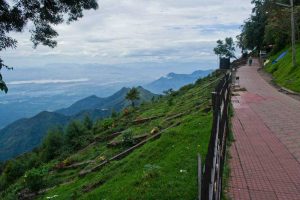 Pambar Falls
Also called the Nom de plume grand cascade, one can nearly spend around four hours to trek to the full view of the waterfalls. At the end of it lies, the mesmerizing splendid falls cascading on a step-like rock formation. One can even enjoy a shower in the pool beneath the falls. It is delightful to spot several endemic birds and butterflies in the wild vicinity.
Kurinji Andavar Temple
This temple is situated 3 Kms from the Kodaikanal lake. It is a famous shrine dedicated to Lord Murugan. The temple is associated with the Kurunji flowers that bloom once in 12 years. From this temple, one can have a view of Palani and Vaigi Dam. The Kurinji flower is native to South India, growing only in the Anamalai, Nilgiris and Palni hills in Tamil Nadu. You cannot surely miss out visiting this amazing place with WanderTrust!
Besides these wonderful places, there are a lot of other good places which Kodaikanal has to offer. Pillar Rocks, Bear Shola Falls, Solar Observatory, Silver Cascade Falls, Shenbaganur Museum, Pine Forest and many more.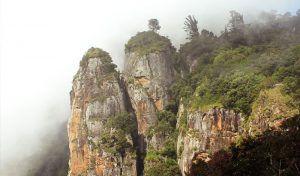 So what are you waiting for? Get along and book an amazing trip with WanderTrust. Fill in our survey form right away. Also, do not forget to head over to our blog to read more such great articles and numerous reviews from our clients!