WanderTrust welcomes you to the final part of this blog-series on the exclusive adventures available in India. While Part 1 and Part 2 of this blog-series elaborated on established adventures in India today, the final part of this blog-series focuses on the adventures that are slowly trending and increasing their expanse all over the country. Dive right in and find out what this beautiful country of ours has in store for you. But before that, why not enjoy the moment ?
1. Snorkelling
Snorkelling in India has emerged as a highly sought-after activity for travellers who like heading to the beach in pursuit of adventures. In snorkelling, you swim through shallow waters of a sea or ocean, with a diving mask, a snorkel (breathing tube) and swim fins (optional). During the duration, the snorkeller gets to observe underwater life, especially corals, for extended periods as they get to breathe face-down at the surface. Unlike scuba diving, which requires formal training and complex equipment, snorkelling is done with a lot less effort and even by people who do not know how to swim, as you don't venture into deep waters and stay in the shallow parts.
Locations : Netrani Island (Karnataka), Tarkarli (Maharashtra), Kadmat (Lakshadweep)
2. Motorcycle Trip 
Traveling to India means being faced with many sounds, tastes, and smells you have never encountered before. It means discovering a new way of life completely different from your own. The challenge to understand it and adapt is constant. From the very dense, buzzing cities to the quiet mountains, through the ancestral-like country sides and southern paradise beaches, the country of sarees and spices will give you much to do. India is the world's 7th biggest country, so traveling from one part to another takes time. Why not spice your journey up by making the time spent on the road as challenging as the rest?
Location : Manali-Leh, Shimla-Manali, Guwahati-Tawang 
3. Hot Air Ballooning  
Hot Air Balloon rides are a general idea of fun at foreign locales. Well, having one in India is as amusing as it sounds! The concept may have taken its own good time to initialize in India, with the help of some good investment and interest, today you can find many places that offer hot air balloon rides, which tower some amazing sceneries. So, get ready to experience the best and most amazing ride of your life.
Locations : Delhi NCR, Haryana, Rajasthan, Karnataka, Goa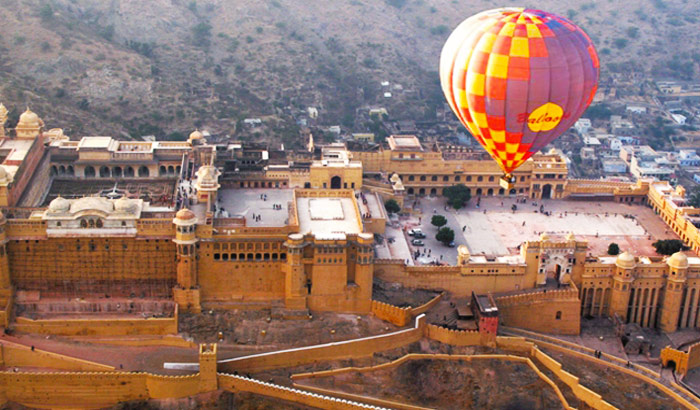 4. Surfing
Surfing in India is growing in popularity. There are some great spots along the country's vast coastline where you can catch a wave and learn to surf. The only issue is that the waves aren't consistent and the surf does fall flat at times.  You need to be at the right place at the right time! Waves generally rise between three and five feet most of the year. Wind-surfing is becoming a popular sport too !
Locations : Kovalam Village (Tamil Nadu), Vizag (Andhra Pradesh), Gokarna (Karnataka)
5. Kayaking
Kayaks have been described as "those smart little, tight little, slight little, light little, thin little, slim little crafts". Alternately known as paddling, kayaking involves travelling on water using a kayak, a narrow boat maneuvered by a double-blade paddle. Kayaking requires a great degree of skill (and is a lot more exciting than rafting, to boot).
Kayaks are available in solo or tandem (for one or more persons). There is no waterway that these splendid "little" boats cannot negotiate. Kayaking, truly, is a delight, a more laid- back activity than rafting. Kayaking has slowly gained popularity among the adventure community in India.
Locations : Kali River (Uttarakhand), Goa, Brahmaputra River (Arunachal Pradesh), Teesta River (Sikkim)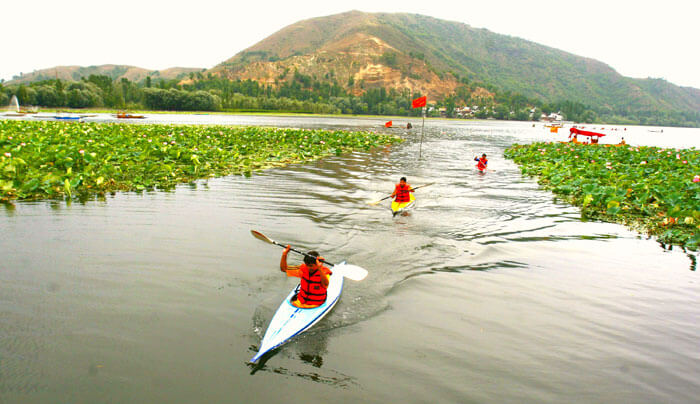 Adventure sports not only clear our mind but also gives us perspective. One can feel more adventurous and exciting by trying such sports. WanderTrust is here to meticulously plan your trips which include such breath-taking places and things to do. To enjoy hassle-free trips and to experience the best of such adventures and surprise trips, fill out the survey form and connect with us at WanderTrust. For a journey is much more than just the travel.