Hey there! Wondering where your next tour should be and how to go about planning it? Well, like always WanderTrust has your answers. Read along as Miss Samiksha shares her experience from a lovely Gokarna trip.
We at WanderTrust, have always tried bringing to you interesting stories and reviews from our trip. Well, guess what? This time it was our turn to get featured on the blog of this lovely fashion blogger. Samiksha mentioned about her first solo trip ever with the following words-
Even I have no idea since how long I wanted to go on a solo trip. Fascinated by Bollywood movies and all these Instagrammable locations, I developed an intense urge to gift myself with a one. But I never knew how therapeutic it would prove to be. I am so proud of myself that finally I had one. I didn't have to depend on anybody, there was complete freedom and safety was taken care of.
Read her entire blog about her experience here.
Are you also someone who has been craving for a solo trip for long? You've got to give WanderTrust a try.
I was a bit scared about this whole planning thing from booking the bus tickets and hotels and since it was my first solo trip I wasn't sure how to go about it. I was not even sure of the destination. All I needed was a little getaway. Then, I came across this Instagram page called WanderTrust and for the first time I had heard a cool concept like this.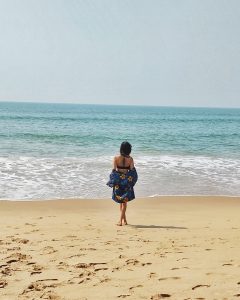 A lot of us delay our solo trips for the fear of getting about the arrangements. It was the same for her. Samiksha found us out on Instagram through a client who had taken a trip with us already. Fascinated by their experience, Samiksha decided to give it a try herself.  The surprise trip concept enthralled her and took the final destination reveal took her all by surprise!
All through the planning I tried to drop hints so that my trip comes somewhere around Goa. But it turned to be Gokarna. It was a place I hadn't heard of. I was a bit disappointed with it, but honestly at that time I had no idea that it would turn out to be the most amazing trip of my life!
Unpredictable as we are! 😛
We make sure that each trip we plan is special and personalized for our traveler. From the accommodation to a few mini surprises we drop through the trip. Samiksha also loved the Nutella Pan Cake that we sent her as a token of our love during her trip. Besides, she also had an amazing unplanned trek experience. Read about more such amazing trips and
It was a trek through five major beaches in Gokarna: Gokarna Beach, Kudle Beach, Om Beach, Paradise Beach and Half moon Beach. It took us around 4 hours for the entire trek and we were dead by the end of it. But must say, that was the best part of entire trip.
Samiksha stayed in a Zostel facility arranged by us.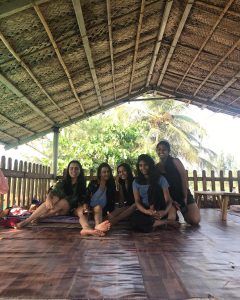 I reached Gokarna on 22nd December and my accommodation was a lovely stay at Zostel. This is the coolest place I have ever stayed with such chilled out vibe, amazing hospitality and the friendliest people. I made some amazing friends from different places and we really had some great conversations and secret gossips to cherish for lifetime.
Samiksha rates her trip with WanderTrust as a 9/10! So why don't you try us out for an amazing trip? India, International, Solo, Group, Family, Couple, Friends and so on, whatever is the travel need. WanderTrust is just one call away. Fill out this survey form right away and come aboard.