"I knew about the destination, as mine was a pre-planned trip, but still receiving the beautiful envelope with detailed itinerary made me feel really happy and it was a very new concept"
These are the words of Miss.Namrata Dakua, one of our recent travelers. Namrata was traveling to Kasol, Bir Billing, Mcleod Ganj, and Dharamshala. She had a good trip with WanderTrust and let us know more about her wonderful experiences.
Talking about accommodation facilities, Namrata tells:
"My stay in Kasol was my favorite! The cottage and its location were exquisite. Even the arrangements done in the cottage for me were pretty good."
Well, what is better than a beautiful cottage to relax and give yourself a vacation treat?! Plan out on such amazing and relaxing trips with WanderTrust.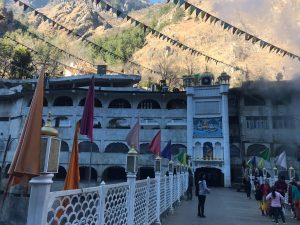 Kasol in the Himachal is an ideal destination for backpackers, trekkers and nature enthusiasts due to its scenic valley, untouched mountains and great climate throughout the year. Namrata also experienced para-gliding during her trip which was her favorite memory.
Let the adventure begin!
"I loved the para-gliding experience in Bir Billing. Besides, Bir itself was incredible. I so wished I could stay there for long, the weather and the landscape were just perfect."
Bir and Billing in Kangra district of Himachal are very popular for adventure sports like Trekking, Paragliding, Camping etc.
WanderTrust had decided to surprise Namrata with a Bonfire and special dinner amidst the chilling mountains of Himachal. However, Namrata ended up arranging a mini-bonfire for herself a day before our planned date. Nevertheless, we tried our best to give her the best experience through our small gestures.
"I had already had the experience of a bonfire. But considering the cold weather, the surprise also served me pretty well and because of WanderTrust, I could get the comforting experience once again."
Namrata, like many other girls wishing to tick off the "Solo-trip" from their bucket list, got a chance to do so through WanderTrust.
"For me, the solo-trip was an enriching experience full of peace and relaxation. I could do all that I liked without thinking about anybody. I could go about doing things completely as per my liking. It was very adventurous as well."
Namrata rates her trip a 9/10.
"The only thing I felt that could have been better is that a little more information about the local traveling on the itinerary; like the timings of the bus, the fare etc. Everything else was great."
We will surely take this into account for the future! We work tirelessly to deliver picture-perfect trips as we have done to several of our other clients! Hope you keep coming back for more such amazing experiences and fulfilling feedbacks.
Don't believe us? Check out these amazing reviews from our travelers.
So this was Namrata's tale of Himachal Pradesh. Don't wait! Write your own travel story with WanderTrust. Fill out this survey form and get going!