Shopping!
Who doesn't get excited at the thought of colourful Indian markets, hundreds of products and numerous varieties along with best bargain? Yes, Flea markets are such places where every shopaholic can shop their heart out in their budget! Just like trips with WanderTrust which are personalized to suit your budget and travel needs!
Here we bring to you the 7 most happening Flea markets across India. Go ahead and put on your shopping boots:
Badshah chowk,Srinagar
Apart from breathtaking locations of sightseeing, Srinagar comes with a good number of places for street shopping as well. Badshah Chowk happens to be one of those places. The best seller here is Kashmiri carpet that comes in various designs and sizes. In addition to this, one can also find beautiful Kashmiri shawls and a diverse collection of embroidered clothes including kurtis, salwar suits and Kashmiri Namdas.
Ima market, Manipur
This is an amazing 500-year old market with over 5000 traders! And they are all women! Women empowerment personified, eh?! With its vibrant array of textiles, spices, fresh fruits and vegetables, this market also provides everyone with famous Morok Chilli.
Sardar market, Jodhpur
This is the most famous shopping zone of Jodhpur and attracts customers from all parts of Jodhpur, Rajasthan, India, and the world. The marketplace is abundant with everything a shopper could dream of buying. There is a cornucopia of food and beverages. If shopping and food are not enough of an attraction, one may also visit this marketplace merely to observe the variety of people who come here. Colorfully dressed people from all walks of life can be seen throughout the locality.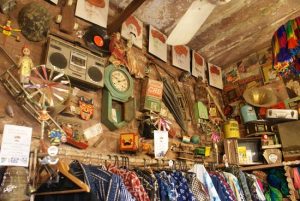 Bada bazaar, Kolkata
"Bada" indeed, the enormity and size of the market define the wide assortment of goods sold here. It is basically a wholesale market that has several area divisions for specific items like stationery, décor, electronic goods, textiles, household items, hardware items, cards, spices, medicines, cosmetics and many more. During the festive season, the market area comes alive with songs, decorations, food stalls, etc.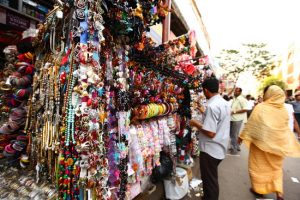 Chor bazaar, Mumbai
This is one of the most adventurous flea markets to be shopping in India. At times, the crowd would push you to the next heap. Beware at that time; you might get pick-pocketed or groped; The vendors shouting funny slogans. However, once you are at this once famed and now mysterious place, you will realize it's worth it. The best thing that about this place is, the products are outstanding because it's hard to find similar items. So if you are someone who likes to find anything and everything in one place, with unique taste then do visit the Chor Bazaar. Also, for unique travel experiences you always have our back. WanderTrust trips are like no others!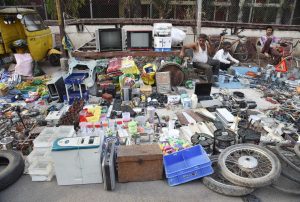 Shanivari Market, Surat
Have you always heard and drooled about the epic low priced clothes available in Surat? Mind you, the low price doesn't compromise on the quality; and about the latest fashion? Well, Surat is the king and you can live all of it in this market. As the name suggests this unique market operates only on Saturdays. It is one of the oldest flea markets of Surat with uncountable vendors and innumerable colours to spread in your life.
Chalai Bazaar, Kerala
Best time to visit the market is during festivals like Onam, Vishu, and Christmas when the market is full of colourful items to celebrate the festivals. It is one of the best places to buy handicraft items in brass or even utensils. Your shopping is incomplete without spices and the Chalai market is the best place to buy spices. Aroma of spices coming from the shop itself is a symbol of freshness.
So let's go shopping! Or do things you have never done. Visit amazing places; get to know unique facts only on WanderTrust trips. From exquisite hotels to your favourite activities we have it all covered for you. Go fill this survey form and pack your bags for an eventful trip!
Shopping the best medicine!