All of us have a certain themed interest- be it a specific TV series or a movie or a sport. And the one place where we really care about the ambience is a restaurant. Let's break it to you then ! There are actual restaurants all across our country that are based on a different and unique theme. Game of Thrones, F.R.I.E.N.D.S., Pirates of the Caribbean, football – just name it. What next then ?
Let's stop caring and start loving !
Chokhi Dhani – the Rajasthani theme
Rich Rajasthani culture at this resort ? Check. Authentic Marwari cuisine ? Check. Experience a day in a Rajasthani village ? Check. Rajasthani folk dancing or a traditional puppet show ? Check.
You won't just see but actually live the life of a Marwari village. Decorated with village paintings, Bani thani art, and wall lanterns, this is the perfect place to discover Rajasthani hospitality.
The Black Pearl – the Pirates' theme
Captain Jack Sparrow and his pirates are here to loot your food. Well, this place boasts of wooden flooring that resembles a ship's deck, decorative skulls and pirate eye patches. The Black Pearl, in short, gives you an experience of feasting in a pirate ship (or being held captive in one).
Howzatt – the Cricketer's theme
This paradise for cricket lovers celebrates the love every Indian has for this game. Seats are designed in the shape of gloves and drinks are named after cricket jargon. Well, you wish to support India during a live match ? This is the perfect place for you to be in.
1857 – the Royal theme
1857 portrays the colonial India, the decor of this restaurant takes you back in time. Traditional exotic interiors and a rooftop view of Hussain Sagar Lake is the speciality of this restaurant in Hyderabad. It is one of the popular multi-cuisine theme based restaurants in India !
The Biker's Cafe – the Bikers' theme
How would you feel if you got fulfilling food accompanied with drinks after a long bike ride ? Ecstatic, eh ? Well, the Bikers' Cafe has the interiors which might be another home for any biker. With a Harley parked infront, and helmets hanging from the ceiling, it will surely make anyone fall in love with the idea of riding bikes! So kickstart your bike, full throttle and meet your fellow bikers at The Biker's Cafe, Kolkata.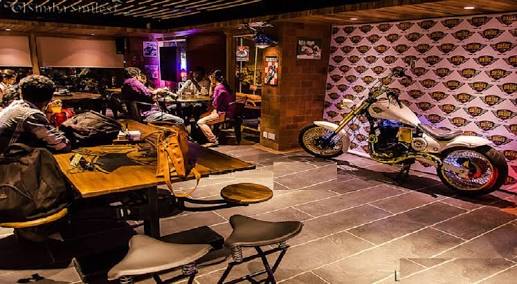 Boombox Cafe – the Music lover's theme
If you want to experience a boombox in real time then Boombox Cafe is the place! The restaurant has a hip hop music theme that is reflected in the interiors. Metal shutters, wall graffiti, and their diverse menu gives a variety of choices to its customers, Also, hit for their fruit based hookah.
Did you find any of your interests in this curated list ? Are you swooned already ? Well, go ahead and connect with us at http://wandertrustold.betag.info/the-survey !
To happy moments, unique places and surprises in life,
Cheers !