On its journey of planning surprise trips, WanderTrust came across these two great ladies from Mumbai – Foram Gada and her friend Asha Janardhan, who gave us serious best friend goals! A friend of them, who had travelled with WanderTrust before, recommended them to give it a try. Kudos to our lovely clients!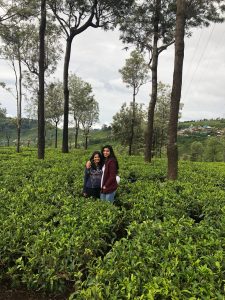 Having successfully planned an adventure-packed trip for them to Ooty, Mysore and Coorg, WanderTrust takes a sneak peek into their journey.
"We were totally excited, it felt amazing! The way the envelope was sent, the location was good, the itinerary was great, and it was all awesome."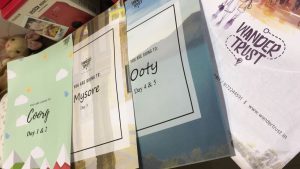 Surprise trips are not really very common in India yet, so when asked how they had convinced each other to take up a "Surprise trip", Miss. Foram said:
"We just discussed about the concept and were already in the mood for packing our bags"
The trip planned for them, was a fusion of great places for different experiences. It allowed them to savor every interest; The royal Mysore, the lovely mountains of Ooty and the quiet and serene Coorg.
To add to their lovable journey we sent them some cute hampers during their stays;mini surprises like coffee beans, fruit cake and special chocolates which made their trip even more worthwhile. The ladies specifically loved their stay at Ooty the most:
"The climate was very good, the resort booked was beautiful, food was enjoyable and the two days spent out there were the best."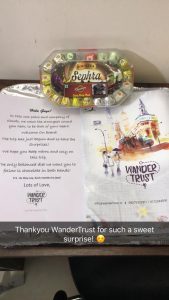 Ooty is a hill station which presents a picture of perfect vacation that we all dream of. With mesmerising scenery, breath taking tea gardens, fine pine and eucalyptus trees along with magnificent mountains around, Ooty tour offers a refreshing setting to spend few special days of your life.
At WanderTrust we also take a little extra care for all our beloved female travellers. We understand the need for your safety and comfort throughout the trip. As we encourage you to become the fierce adventurers, we secretly do our part to keep you safe and warm:
"One very unique thing was the state of at most safety. Our Budget constraint allowed us only a late night flight while returning, which was a little exhausting. But everything else was just awesome! Good care was taken of us; We were both girls travelling alone, that was something really very needed. The driver chosen for us was very kind and knowledgeable. I guess he made our trip far better. He suggested us various things about the place with superb honesty and care."
And this is exactly what we aim to do, create totally hassle-free experiences for you. No worries, no hurries; Time with WanderTrust is thus full of relaxation. Check out more such amazing reviews from our clients here.

Thank you Foram and Asha! We grow with the growth of our clients and believe in assisting you with the best. We hope to have you on board soon again.
So people, don't let the time fly by! Go ahead and enjoy this cool concept of surprise trip planning. And come join us on this travel extravaganza by filling out this survey form.
See you soon!