Aim for the moon. Even if you fail, you'll land among the stars.
Something that we learned as a child. Certainly not a bad place to land in. Well. who doesn't love stargazing ? Sitting out on the terrace, feeling the calm breeze against your face and just stargazing. To be honest, there are very few experiences  as enchanting and humbling as beholding a clear, starred sky. Imagining those innumerable constellations, putting in those unsuccessful attempts at counting them and making that wish when a fallen star blazes a trail- well, the experience is surreal !
With the increased burden in our lives, all of us deserve something which gives us inner peace, something that calms our soul. And stargazing is definitely that one experience. This surprise travel company  has hence put together a list which can assist you in this beautiful act. What's the wait then ? Let's explore the mesmerising nights and the infinite beauty that our country has to offer.
1. Spiti Valley, Himachal Pradesh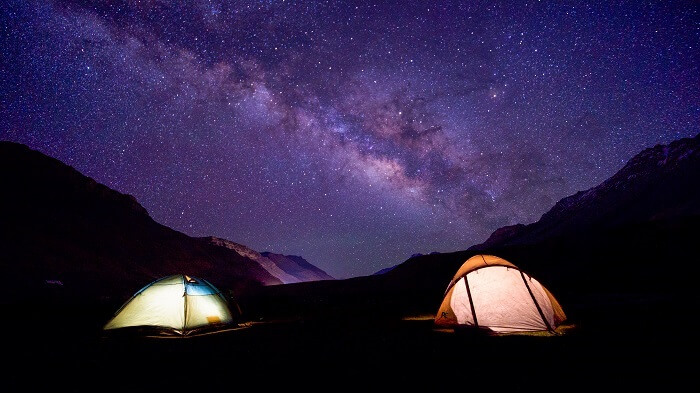 Well, that does look magical, doesn't it ? And you know what's the icing in the cake ? There's a lot more to Spiti than  just stargazing ! The wonder Spiti is, you can find all about it here.
2. Neil Island, Andaman and Nicobar
Imagine the reflection of those twinkling stars on the crystal-clear waters around the Andamans. Well, its a beauty you can't really afford to miss. Generally, too, stargazing when on any island is a treat in itself. Plus who really wants to miss out the activities that the archipelago of India has to offer. If you haven't already, better late than never ?
3. Rann of Kutch, Gujarat
It is rumoured that the night sky forms strange and unique shapes in this vast and gargantuan desert that sees unparalleled crowd every year. And honestly, the picture explains it all. Does it not to you ?
4. Sundarbans, West Bengal
Sunderbans doesn't only have a beautiful clear sky with shooting stars being spotted almost every 10 minutes, but an added bonus very unique to this place is the water below containing bioluminescent bacteria which is just magical. So you are under the sky and at the same time sailing over it.
5. Coorg, Karnataka
You just cannot deny that you haven't heard of this place before. This one favourite place for travellers has much more in store than stargazing. Undoubtedly, a place not to be missed from your bucket list when looking for composure and a peaceful environment. Why ? Because WanderTrust knows it all.
We just shared a list of 5 of the best places in India that give you the most thrilling and relaxing experiences on stargazing. And if you haven't noticed already, these places are all distributed across the country. Well, we just don't want you to have a reason why not to take this trip and go stargazing. Smart, no ? What are you waiting for then ? Connect with WanderTrust, get your perfect surprise trip planned by us and go out there,
Beyond the stars !