Beautiful things happen when you travel with your significant one and WanderTrust had this opportunity to plan the trip of one such incredible couple Mrs.Viswamitra Kolli and her beloved husband. It was the second time that we were planning a trip for them and it is always lovely to see clients reaching out to us again! When asked why they had chosen WanderTrust for the second time, Viswamitra said:
 Our last trip with WanderTrust was to Pondicherry, it was really well planned and every thing was taken care of well. So we had the assurance that the arrangements would be good. Also, this time we wanted to take a trip on a short notice, so we instantly thought of WanderTrust to maintain the same good services even in less time.
So once again it was the time for us to live up to big expectations, and how could we disappoint our sweet travelers?! So the team was set to work. This trip was a pre-planned trip for the love birds to Meghalaya- the paradise. Let us know more about this trip from Viswamitra:
Q. Was the team helpful in selecting a good destination for your pre-planned trip?
Ans. Yes. Initially, we had thought of visiting Bhutan. Then we were given the suggestion of Meghalaya which was fitting better into our budget with a great itinerary. We were instantly excited and decided to take up this Meghalaya plan.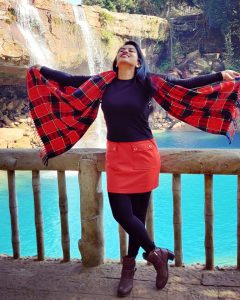 Yay! Glad that the destination was to your liking. At WanderTrust, we are committed to providing you the best in your budget.
Smiles, laughs, and memories incoming!
Q. What were your most wonderful experiences of the trip?
Ans. Shnongpdeng! We had a camping night there, our very first campfire. We slept in a tent and enjoyed the bonfire and nearby river view. Also, it was Christmas Eve and we could hear songs and melodies all around. It was amazing. The place was even maintained well with no hygiene issues, and the hospitality services rendered to us were very great and surprising in such a rural place. The next day, we did boating and snorkeling. The experience of snorkeling in such cold water was unique, it was so clean and soothing, we could see and feel the fishes. It is unforgettable.
Q. Did the itinerary give you the best plan? What different was this trip from your other trips? 
Ans. Yes, itinerary was very good.
Well, it was super adventurous, breath-taking and yet lovable and enjoyable. We had a very long trek experience in Cherrapunji and we challenged ourselves to complete it back-and-forth in 6 hours. Accomplished it! We were using bamboo sticks to walk and there was one bridge between two mountains at a high altitude and with huge rocks beneath, we could see clear water flowing below and it was so scenic and thrilling.
Q. Were there any inconveniences caused during the trip? How would you rate your overall experience?
Ans. It was all good and fantastic, there was only an issue with our last accommodation in Guwahati where the services of the hotel disappointed us. However, I have referred WanderTrust to numerous people because of the awesome service and planning. And I really love your concept of surprise trips as well. I would rate it 9.5/10! We can spend the rest of our lives in Meghalaya 😛 , we didn't want to come back!
Wow, what a pleasure planning for such wonderful guests. Hoping to see more of you! Readers, what are you waiting for? Fill our survey form today and surprise yourself, or maybe just escape on a wonderful pre-planned trip!