What more adventurous way to celebrate your own birthday than going out on your first solo trip ? Yes, you heard it right. One of our recent guests was travel-hungry enough to jump into one of the most exciting adventures of his life – a first solo trip to Himachal Pradesh. Our team here at WanderTrust got this golden opportunity to plan a surprise solo trip for Vineeth, who seems to have relished his trip completely.
Let's find out about Vineeth's experience to the Himachal ! His pictures and photography skills are sure to leave you in awe as he explores Himachal.
Q. How did you get to know about WanderTrust ?
Ans. Actually, I saw an Instagram advertisement. A friend had shared it with me, it contained some "want to surprise yourself ?" kind of thing, after which I went on and read about your concept.
Q. What were your initial expectations from WanderTrust after reading about the concept of surprise trips ? 
Ans. Thats the whole thing about it. Your concept of surprise trip was what got me hooked on to the thing. I just wanted to see how it would work out, because you would take care of everything – expenditure, travelling, planning, tickets. So I just wanted to fill the survey form and see how it goes.
Q. What was your reaction on receiving the teaser email and the envelope ?
Ans. I couldn't receive an envelope because it was delayed a little. I always wanted to go to Mcleodganj and Bir, they were on my top list always but I couldn't go. When I was informed about Mcleodganj, I was just amazingly surprised and was out of my mind completely. I just couldn't process the information.
Q. What were some of your special experiences during the trip?
Ans. The whole thing was actually very amazing. The trip was so unique and special in so many levels. It was my first solo trip, it was my birthday also. I met a girl in the morning on my birthday- we were on the same bus. And then we started talking and then roamed around together for the whole day. In the night, she even ordered a birthday cake for me and that was so so special and surprising. It snowed in Mcleodganj as well and it was very beautiful. Everyone was so excited, even the monks were running around and clicking pictures. Everyone was so happy – all of this just made me feel peaceful.
I got to meet so many new people also, from so many parts of the world. Our bus stopped 14 kms from Manali, and we took a cab from there. I met some people from Gujarat- Piyush, Sachin, etc., and these guys booked a cab for me – I didn't even ask them and that was so nice. They told me that they have booked a Tata Sumo and they were going somewhere so I was about to ask them if I could join. When I asked them, they told me that they booked for me as well. They had already included me in the group. In the Zostel, there were two people who were a part of the managing team, and I met them and talked to them a lot and shared so many stories with them.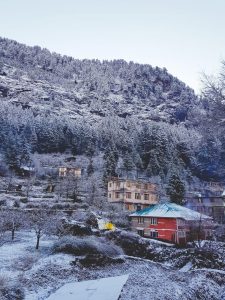 It was so cold in Manali, I couldn't see anything in the fog and I even fell from the bike. First day, I didn't go outside because it was snowing like anything. Second day, in the morning at around 8.30, I went for a Cafe and it was 5-6 kms away. It was so cold and I fell from my bike so I parked it and then walked for 1 km. There were so many things, it was such an amazing trip. I even told Sanket how awesome this trip was. I am afraid of heights and I even did paragliding, and it was so adventurous. So many fond memories, so many good people I met.
Q. How did you like the breakfast surprise from WanderTrust ?
Ans. When I was in Mcleodganj, another team was celebrating a birthday and they got to know that it was my birthday previously so they took me in. Again in Manali, last day of my treat, I got the breakfast surprise from WanderTrust and it was so so sweet and I loved it.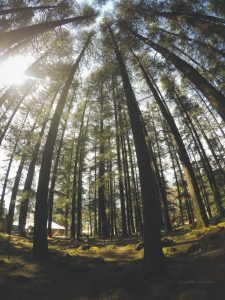 Q. Were there any inconveniences caused during the trip ? How would you rate your overall experience ?
Ans. There were none from your part. In Manali, I had to travel 10 kms up and down in the bus. On the way, they stopped like 15 kms away from Manali, and then they went up from there. On the way back also, it was supposed to be from Manali but there was a landslide or something, so I had to book a cab and it was an hour late. The conditions turned out to be different so I don't really blame you guys for it. Apart from that, everything was so good – the arrangements, the hostel, the entire trip. It was just perfect and well-planned, and I would rate the trip a 16 out of 10- I loved it that much !
Looks like Vineeth had one of the best birthdays ever. His first solo trip turned out to be perfect, and we are sure that he will cherish those moments forever.
Did Vineeth's experience ignite the adventurer in you ? Go ahead and fill out our survey form and go out solo to offbeat locations to have the time of your life !