We all love to plan things for our loved ones which we know will make them happy. The feeling of being loved is unmatchable! We came across one such couple Mrs. and Mr. Jakkula where Mrs. Mamtha Jakkula got a surprise trip planned for her husband to Jaipur and Ranthambore. Get on board to know more!
I got know about WanderTrust from a friend who had traveled before. They had a good experience, hence I decided to plan a surprise trip for my husband through WanderTrust. :
We at WanderTrust are super happy to serve our customers the right way, and it is a wonderful feeling to be recommended to more people. Mamtha wanted us to plan a trip to Rajasthan's Ranthambore and Jaipur for the two of them.
Situated at the junction of the Aravallis and Vindyas – Ranthambore gives some of the finest opportunities for sighting the magnificent tiger in the wild. A mix of rolling hills, meadows, and lakes, this dry-deciduous forest destination is home to a great variety of flora and fauna. Jaipur, on the other hand, is famous for its city-life and sightseeing experiences. Tourists love this place for its awesome forts, palaces, authentic culture, and welcoming aura. Let us know more about this trip from Mamtha:
Q. Did you like the itinerary that was planned for your destinations?
Ans. Yes, I think it was well-planned. It was thoughtful and also had a flexible nature. We were able to change it whenever we wished. We found it apt for us and roughly followed the majority of it. It was detailed and also easily understandable.
Khamma Ghani Rajasthan!
Q. Did you like the accommodation facilities as well as other on-site arrangements made for you?
Ans. We had planned this trip at the last moment, and it was the peak tourist season during December, hence we could get average accommodation. The services were normal and standard. Since it was a last-minute thing we had no issues with it because we had to cut down on the cost.
About the on-site services, I really loved that we were provided a designated car and driver for our city tour. It eased out a lot of hassle. The driver was very good and he knew the local language so it was very helpful.
WanderTrust loves to provide you with the best-suited options in your budget! Fill out our form today to get your trip planned in your budget.
Q. What is your best memory from this trip?
Ans. My favorite one is visiting the Chokhi Dhani. It was really awesome. We got to taste the authentic Jaipuri cuisine there and also related cultural experiences were very good. From Ranthambore, it was definitely the safari. Though we were not able to spot the tiger, but the experience was amazing. The weather was freezing cold and we were in the canter looking out for the tiger. It was a cherishable experience.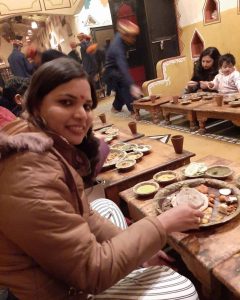 Another very unique experience was when we were on our way from Jaipur to Ranthambore. We had stopped in one of the fields to relax and click pictures. We were invited by the field owner to enjoy a meal with them. The gesture was amazing! They were not even ready to accept any money for it. It was an act full of love and we felt welcomed.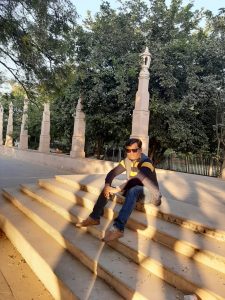 Q. Were there any inconveniences during your trip? How would you rate your overall experience out of 10?
Ans. Everything was smooth. I was able to connect with the WanderTrust team whenever needed, they were very responsive as well. My rating for the trip would be an 8.5/10! I think travel helps us broaden our horizons and experience new cultures, hence everyone should take it up!
Just like Mamtha, you could book your surprise experience with WanderTrust. Go ahead and fill our survey form!