WanderTrust is back with another story. We have always loved seeing our clients choosing us again and again and this story is about Ankit. He had traveled with us last year on a surprise trip to Varkala. This time he chose us for a pre-planned trip to Meghalaya with his friends.
I was very satisfied with my last trip with WanderTrust. I wanted a smooth and secure trip again. Also, we are students and we wanted all aspects of the trip to be customised to our needs, that is why I chose WanderTrust again.

Q. How was the itinerary that was planned for you?
Ans. The itinerary was wonderful. This time, we had known where we wanted to go, it was planned according to our liking. I travel a lot, and I had done my background research about Meghalaya. The itinerary given to me was the best even I could think of. We wanted to explore new places and also chill out, the itinerary was perfect for it.
Q. Did you like the accommodation facilities?
Ans. All the accommodation facilities were decent, standard and the food everywhere was lovely. We were suggested in advance about staying in Nongriat, and all the arrangements were made very well, so we had an upper hand. On New Year's Eve, I just wanted to party and chill with my friends, so it was made sure that the accommodation was in the center point of Shillong which is the coolest place to be in on New Year.
We are always committed to providing you the best in your budget! Don't believe us, read more reviews from our travelers here!
Q. What is your best memory from this trip?
Ans. My best memories of the trip would be, firstly, reaching Nongriat and spending an amazing time there. The best thing that happened to me on this trip was seeing the secret beauty of Meghalaya. It is untouched and exploring it was an awesome experience. I would like to convey to everyone the message to visit this beautiful place, but also be mentally and physically prepared for adventures.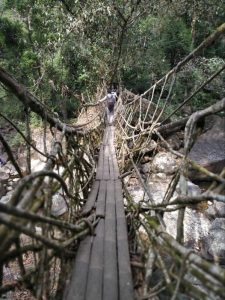 Q. Was the team available to help you out when needed? How would you rate your overall experience out of 10?
Ans. Yes, I had no inconveniences during the trip. I would rate it a 9.5/10!
Woohoo! We are glad we could plan your trip well Ankit! Readers, fill our survey form today and surprise yourself. Or you could also go pre-planned to a wonderful destination of your choice!