Going to far off places or even some nearby getaways are both great ways of letting the traveler in yourself spread the wings. Traveling has become the most beautiful way of strengthening bonds and living life with your loved ones. WanderTrust planned one such trip for Mr.Harnish, who traveled with his beloved. And of course, it was a trip that came with some awesome surprises. Harnish like many other travelers found us on Instagram:
I saw an advertisement on Instagram, and intrigued by the concept of the surprise trip I filled the survey form to give it a try. The team then reached out to me and explained the core of the planning. After understanding it I was excited and it also met my needs and budget, so I went ahead with it. Later, I came to know that one of my cousins had also traveled with WanderTrust earlier.
Let us hear more from Harnish about his recent Chikmagalur trip with WanderTrust.
Chikmagalur! Love is in the air!
Q. What was your reaction when the surprise destination was finally revealed to you?
Ans. When I received the teaser email, I actually checked the flight timings mentioned to figure out what place it would be. But when I received the revelation envelope and I saw my destination, I had no clue about the existence of one such place. I then searched about it online and saw that it had many coffee plantation estates, high hills, etc and that was exactly what we wanted for the trip. So it was very good.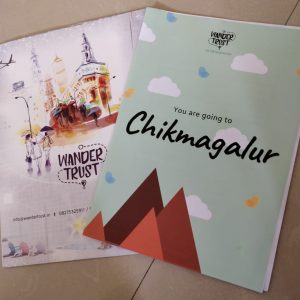 Q. What did you like the most about your trip?
Ans. My best thing about this trip was going to Mullayanagiri peak. It was wonderful to be at the highest peak in Karnataka. We spent a good time together. We were in the clouds! About the service also, I loved the smooth way the trip went, it was very well planned.
Q. How was your experience at the accommodation?
Ans. The chosen hotel was amazing. It was the only 3-star option available there besides the other homestays and hostels. I was traveling with my wife and hence preferred accommodation like the one chosen. The food facilities at the stay were also very nice.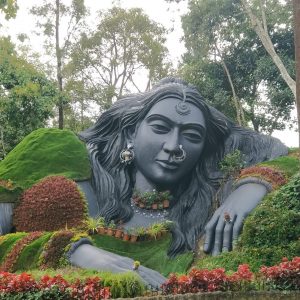 Q. We sent you a cake as a surprise on the last day of your trip, did you like the surprise? 
Ans. Yes, it was a very good gesture. We liked the surprise, it was very good.
Q. Were there any inconveniences caused during the trip? How would you rate your overall experience?
Ans. Not really. Everything was planned and on time, so no inconvenience was caused. I would rate my trip 10/10 it had no flaws!
Wohooo! Thank you, Harnish. Loved reading about this experience? Fill this survey form and get your trip planned in your budget today be it with your loved one or your friends and family, or maybe you could go on a SOLO trip! Wait not! Come aboard.