Varkala! We came across this place while using our continuous efforts to bring to you some lesser-known places; Varkala is an ideal destination for a perfect vacation with a cosy environment, beaches, scenic marvels, massage spas and complete relaxation. And what could be better than such a place during the pleasant weather months of October and November?
Sounds like a full suite? Well, not until it comes with a perfect travel partner like WanderTrust of course. 😛
Already getting much bag packing-vibes!
Come join us as we explore some great attractions of this beauty:
1. PAPANASAM BEACH
This is one of the most beautiful, clean and loved beaches of Varkala. A long sandy beach, towering red cliffs and mineral springs put it in the not-to-miss category. Papanasam is a perfect place to watch the sunset or relax gazing at the horizon. The area is covered with coconut palms and small restaurants that mushroom during the season.
2. JANARDHANA SWAMI TEMPLE
Varkala is also famous for the 2,000-year old Janardhana Swami Temple which is often referred to as Dakshin Kashi. It stands on the cliffs overlooking the beach, a short distance away. The temple has an ancient bell removed from a shipwreck, donated by the captain of the Dutch vessel which sank near Varkala without causing any casualties. The scenic beauty paired with great architecture makes it a great place of tourist interest.
3. SIVAGIRI MADAM
The hill-top mausoleum of Sree Narayana Guru is one of the most famous monuments in Kerala. This tomb attracts thousands of devotees every year during the Sivagiri Pilgrimage days, from 30 December to 1 January. The art and architecture of this place in white marble are inexplicably beautiful. The hill-top location adds much more to the perks of visiting it. Love it? Book your next surprise trip with WanderTrust right away.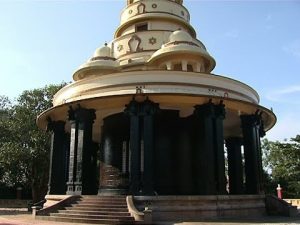 4. ANJENGO FORT
It is the site of the Dutch East India Company's main garrison. In the 17th and 18th centuries, the fort protected their powerful position in the state. It is in true nature a marvelous development in Varkala that everyone must visit once in their life!
5. PONNUMTHURUT(GOLDEN ISLAND)
This beautiful Island can be reached by boat. The cruise to the the island is a memorable one. It is at a distance of 12 kilometers from the South Varkala. It takes a time of about 30 minutes boat ride from Nedunganda to reach here. There is a temple dedicated to Sivan and Parvathy called Thuruthu Kshethram, which is very famous. This temple is more than a 100 years old and the entire island is the temple property.
And how about traveling to such a great location with zero things to worry about? Yes, you heard it right. WanderTrust offers you complete hassle-free experiences through it's concept of surprise tours. Don't believe us? Read these client feedbacks to know more!
All of the above said, it is also important to note that Varkala is that perfect destination which might fit into the smallest travel budgets. Besides this, the stay options in Varkala are beyond the thought! From exquisite resorts to serviced villas, Varkala has a lot of options you might wish to explore. So don't wait, fill in this survey form right away and get ready for a great trip.