Planning a trip is no doubt a hectic job and most people give up on their travel only because of the hassle. But hello!? WanderTrust is changing this myth every day! We are constantly working to provide our guests with the most hassle-free experience to ensure that all you have to do is tell us your preferences and sit back and relax while we do all the planning and bookings for you. And obviously, this is what makes our surprise trip concept so unique. We had the pleasure of planning a trip of Miss Sneha from Mumbai, a solo-traveler who wanted to take her first surprise solo trip ever!
I found about WanderTrust on Instagram. I had been waiting to take a good solo trip since very long but I am too lazy to plan an entire trip, and I knew I would just give up on it if I would have to do it myself. So when I went through the website, I was very amazed, I just had to put in the money according to my budget and everything would be made ready for me.
YASSSSSSS! That is what we do 😉
If you too are eager to look at how it all works while booking a trip, head to our website now! Well, we chose Pondicherry for Sneha's trip because it suited her preferences and budget the best. Let us know more about the trip:
Q.Tell us more about your journey from filling the survey form to getting the revelation of surprise destination?
Ans. I was a little skeptical at the beginning about whether I should be doing it. Well, I am glad I did!  It was like a rush in a moment when I decided that fine, let's give this a try. I filled the form and in no time I got the call wherein my preferences were taken and then I received the first teaser email. I was very excited and was guessing the place to be around Chennai, hoping it would be Pondicherry. And yes it was Pondicherry! I was so excited to receive my envelope. I called my friends on the day it was supposed to arrive 😛
Q. Did you like the itinerary planned for you?
Ans. Pondicherry was always on my bucket list. The itinerary was flexible and had good suggestions. I did not go exactly as mentioned in it but used it flexibly to my liking. I covered all the places. It was properly planned and I was pretty much satisfied.
Ready to be Sunkissed!
Q. Did you like the accommodation facility?
Ans. I was staying in a travelers' hostel, it had good vibes. I even traveled out on one day with one of my roommates. Even on the last day, I met two guys and later we realized we were in the same hostel and dorm. It was very exciting. Even the hostel host was very good.
Yay! We are constantly working to make each moment of your trip count. Don't believe us? Check more reviews here!
Q. What is your best memory from this trip?
Ans. White town. The French Colony area was awesome. There was something very attractive about that place I traveled to it every day to spend at least some time there. Covering the eateries mentioned in the itinerary was also fun. I also went to Auroville, the eating places there were vegan so that was another unique experience. I loved Auroville in Pondicherry, it is very beautiful.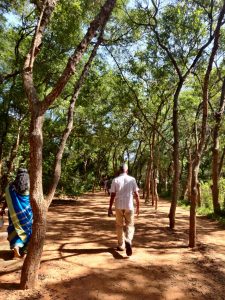 Q. Do you recommend taking solo surprise trips? How would you rate your overall experience out of 10?
Ans. Yes. This solo trip has made me comfortable and ready to travel alone. There were no inconveniences. I would rate it 9/10!
We are glad we could plan your trip well! Hoping to plan many more trips for you. Keep coming back. Readers, don't wait, fill our survey form today and surprise yourself. We are waiting for you!